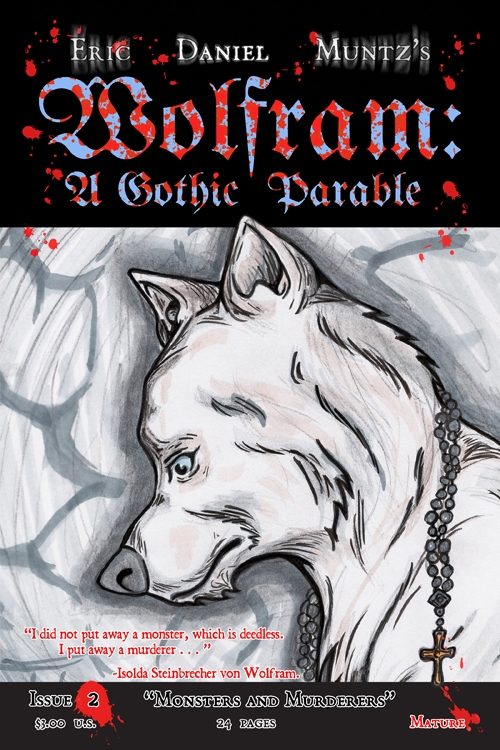 Wolfram: A Gothic Parable #2
$1.99 – $3.00
Eric Daniel Muntz
Standard Comic
Black & White
Page Count: 24
Order 5 copies or more and get 25% off on this book!
Great deal for re-sellers! (Discount shows up at checkout.)
What It's About
Isolda's first encounter with Karsten was a disaster, and their second impressions are not much better when Isolda observes an inconspicuous yet bizarre behavior in him that links him almost irrefutably to the Nosveratu. In the meantime, three Werewolves-at-will remember their deceased pack leader and discuss their recent failure over chalices of tainted beer. Also in Issue 2: Isolda reveals a Brief History of the Ordnung von Wolfram. When a Fenrîn Werewolf renounces bloodlust, a change occurs in his body. He suddenly abhors the taste of blood and flesh. He becomes sterile. And he can no longer walk the world openly as a man, for that door has been closed to him. He must live in seclusion in lupine form, trusting only his new kind and the few humans that will give him safe harbor. He becomes a Wolfram… and his blood is a resource as dear as life to some, and dearer than his own to the same. And most of all, he is prey to those with whom he once ran.
Click the banner for more from this publisher.


Only logged in customers who have purchased this product may leave a review.