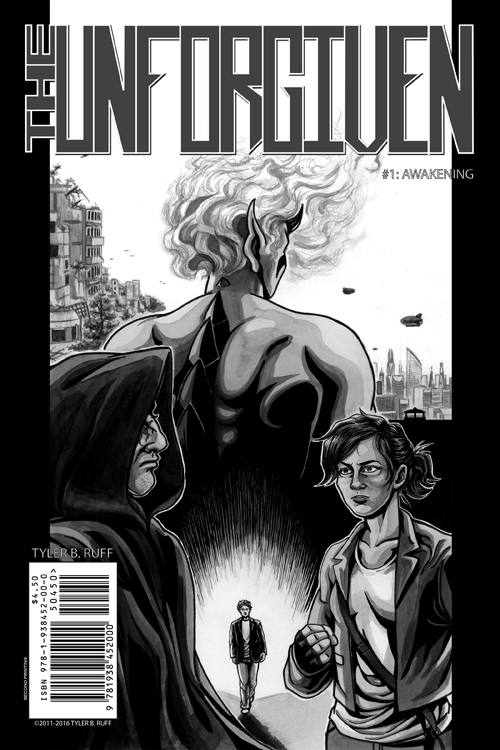 The Unforgiven 1.1
$0.99 – $3.75
Awakening
Tyler B. Ruff
Standard Comic
Black & White
Page Count: 40
Order 5 copies or more and get 25% off on this book!
Great deal for re-sellers! (Discount shows up at checkout.)
What It's About
Jared Patton rescues a stranger from a group of attackers in an alleyway, only to find himself needing a rescue of his own…and facing demons he never knew he had. This issue is a re-print of the original 2011 #1 issue that kicked off the entire Unforgiven saga–with a fresh new edit of the original interior art, and a brand new cover!
Twenty-five years ago, there was a war that brought mankind to the brink of destruction. The countries that were left forged a compact in the name of peace to join together and govern the world as one body: The World United Nation. The war cost billions of lives…but peace came with its own price. The UNFORGIVEN follows the titular cast of characters through their struggle for a place in the world. Theirs is a tale of love, life, and death, revenge and redemption, monsters and men. The journey of The UNFORGIVEN traverses the realm of both the everyday and the supernatural, as they fight to rid the world of its oppressive government and secure for everyone on Earth the right to live free.
Only logged in customers who have purchased this product may leave a review.