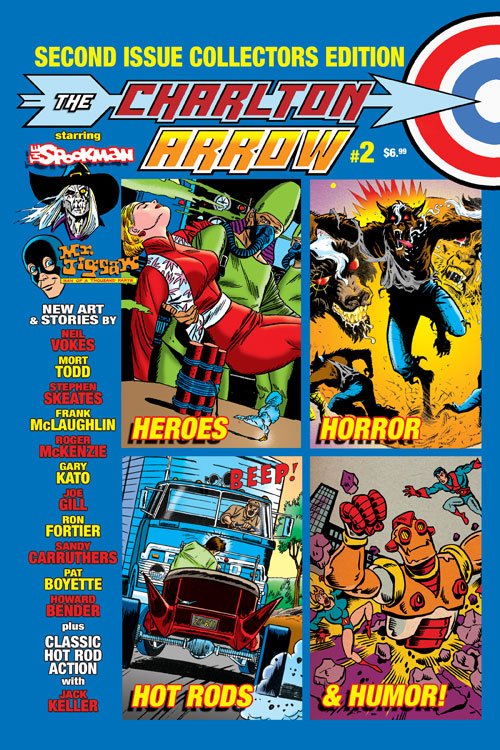 The Charlton Arrow #2
$1.99 – $6.99
Various
Standard Comic
Full Color
Page Count: 40
What It's About
MR. JIGSAW in BEACH BALLOONS by Ron Fortier and Gary Kato In the twilight of the Charlton era, many new features were introduced in their pages, including the beloved Man of a Thousand Parts named Mr. Jigsaw! The character has gone on to have a popular career in his own title and appears here in an all-new adventure! NEVER HITCH A RIDE by Jack Keller From the Charlton Garage roars a vintage tale from Hot Rods and Racing Cars #89 (February 1968). Clint Curtis learns that it's just as true then as now… beware of picking up rides with strangers! A special preview of the new ACE Comics title, Classic Hot Rods and Racing Car Comics! THE CURE-ALL by Stephen Skeates, Howard Bender and Neil Vokes What's a werewolf to do when looking for a depilatory in the wild west? Find one of those snake-oil peddlers, natch! But those old-fashioned remedies never work… Or do they? A lurid tale of lycanthropy presented by Mr. Bones! THE GOLDEN PHARAOH by Joe Gill and Pat Boyette Originally commissioned in 1967 by Charlton Comics, here is an unpublished epic scheduled for the final issue of an action title that was never released. Ambassador Christopher Smith and his able assistant learn of a nefarious plot to steal all the world's gold! THE BARELY SENTIENTS by Mort Todd During the height of Charlton Comics' reign of Action Stars, there was an uncanny super-team that appeared in the back of the Thunderbolt series… well, this ain't them! A satire of Charlton's off-beat beatnik super-heroes, The Sentinels. THE SPOOKMAN by Roger McKenzie and Sandy Carruthers Detective Mastrocelli is drawn deeper into the arcane nightmare world of The Spookman! Does such a being actually exist, or is he a figment of the detective's ever-increasing fevered brain? The more he learns, the more questions are posed about the fate of the mysterious Aaron Piper… BONUS CHARLTON ACTION POSTER by FRANK McLAUGHLIN! Artist Frank McLaughlin is well-known for his fantastic work at Marvel & DC Comics, but he also had a lengthy career at Charlton Comics as a creator, writer, penciler, inker and Art Director. Having studied judo since age 18, he created the character Judomaster with Joe Gill, and soon began writing it as well. He worked on such titles as Blue Beetle, Captain Atom, Son of Vulcan and The Fightin' 5, collaborating with artists including Dick Giordano and Steve Ditko. You have to see this incredible array of adventure figures to believe it!
Though never as popular as DC, Marvel or even Archie, Charlton Comics had a long run from 1944 to 1985 and also produced a line of successful publications like Hit Parader. They didn't spawn the superhero icons other publishers did but released a variety of titles that have become beloved by millions. They were fortunate to employ an array of legendary writers and artists who displayed a creative passion in the Charlton titles more than with other publishers, where they received more pay and fame. When Charlton closed shop, they sold off most of their properties, with many left to languish in limbo. If anything, appreciation of their comics has grown over the years, with fan publications, such as Charlton Spotlight, dedicated to their memory. THE CHARLTON ARROW is the fruits of those labors and we hope it properly honors the Charlton legacy!
Only logged in customers who have purchased this product may leave a review.