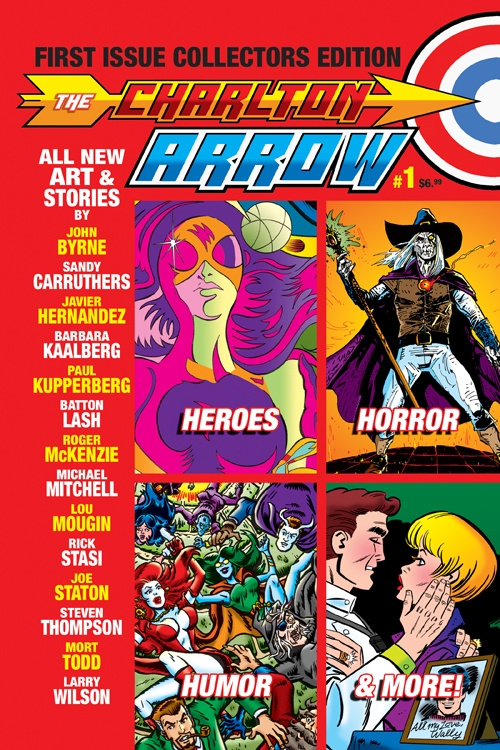 The Charlton Arrow #1
$1.99 – $6.99
John Byrne, Sandy Carruthers, Javier Hernandez, Barbara Kaalberg, Paul Kupperberg, Batton Lash, Roger Mckenzie, Michael Mitchell, Lou Mougin, Rick Stasi, Joe Staton, Steven Thompson, Mort Todd, Larry Wilson
Standard Comic
Full Color
Page Count:40
What It's About
Though never as popular as DC, Marvel or even Archie, Charlton Comics had a long run from 1944 to 1985 and also produced a line of successful publications like Hit Parader. They didn"t spawn the superhero icons other publishers did but released a variety of titles that have become beloved by millions. They were fortunate to employ an array of legendary writers and artists who displayed a creative passion in the Charlton titles more than with other publishers, where they received more pay and fame. When Charlton closed shop, they sold off most of their properties, with many left to languish in limbo. If anything, appreciation of their comics has grown over the years, with fan publications, such as Charlton Spotlight, dedicated to their memory. THE CHARLTON ARROW is the fruits of those labors and we hope it properly honors the Charlton legacy! The Charlton Arrow is a color comic blockbuster, featuring stories and art by well-known contributors to such companies as DC Comics, Marvel and Archie, including a few Charlton veterans, alongside amazing new talent! It features comics, pin-ups and articles by over a dozen creators.
Superhero, horror, romance, western and humor genres by some of today's (and tomorrow's) top talents are represented in the first issue of The Charlton Arrow, a tribute to the legacy of Charlton Comics! THE GHOSTS OF EVILS PAST by Paul Kupperberg, Rick Stasi and Barbara Kaalberg Where have all the heroes gone? The incredible aftermath of a certain showdown in Sunuria that Charlton action fans deserved! CAREER GIRL ROMANCES by Larry Wilson and Joe Staton Following the tradition of the racy romance comics, Chapter One follows the further adventures of Nurse Betsy Crane and her circle of bed-hopping medical staff… and we ain't talking their caduceus! DOOMSDAY +1 by John Byrne Who says you can't go home to the future again! A post-apocalyptic pin-up! JONNIE LOVE by Michael Mitchell Charlton's resident Easy Rider is on the road again in a far-out tale of intrigue, drugs, deceit… and incest?! CHARLTON HORROR ART GALLERY by Mort Todd You are cordially invited to the opening of the Charlton Horror Art Gallery, where you will be reintroduced to the hoary, and sometimes whorey, hosts of Charlton ghost comics! THE HOSTS OF HORROR by Lou Mougin and Mort Todd What do you do when your horror magazine gets cancelled? Find out the tragic and topical truth as the Charlton Horror Hosts find themselves evicted and in a world they never made, or could possibly be prepared for! THE CHARLTON WESTERN ROUND-UP by Steven Thompson There was a time when Cowboys were kings of the silver screen, TV and comic books! A look at the real-life movie cowboys that once rode the Charlton range. GROK 70,000 A.D. by Javier Hernandez Charlton published many titles based on TV shows, movies and even a President's daughter! Since we don't have the rights to this one, can you guess which comic inspired this pin-up? SPOOKMAN by Roger McKenzie and Sandy Carruthers Is he arcane evil or a righter of serious wrongs? A horrific tale of weird justice featuring the supernatural character created by legendary artist Pat Boyette. MISS BIKINI LUV by Batton Lash There sure is no better way to round out this issue than with a go-go-roovy pin-up!
Only logged in customers who have purchased this product may leave a review.