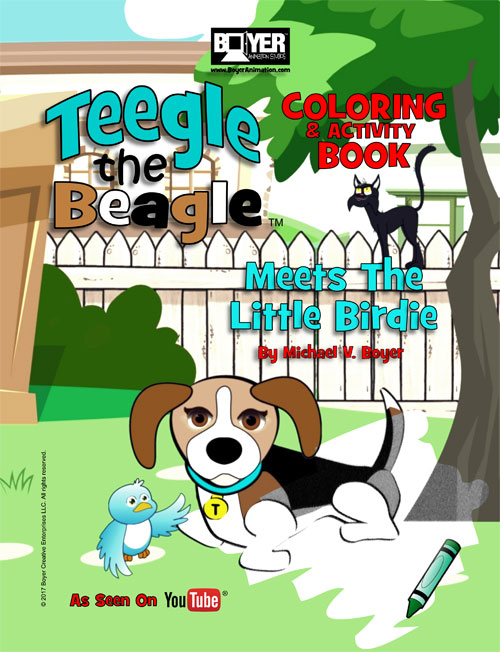 Click the banner for more from this publisher.


Teegle The Beagle
$0.99 – $3.99
Michael V. Boyer
Magazine Type Comic
Black & White
Page Count: 12
Order 5 copies or more and get 25% off on this book!
Great deal for re-sellers! (Discount shows up at checkout.)
What It's About
The character Teegle the Beagle is based on the author's real-life beagle and the story is based on a true story that involved his dog protecting a little blue bird. In addition to the coloring book story, there are Teegle the Beagle activity games in the back for fun! For young readers ages 3-6 years old.
Teegle the Beagle Meets the Little Birdie Coloring & Activity Book – Based on the animated children's storybook by Michael V. Boyer featured on YouTube and www.BoyerAnimation.com. In the story (based on actual events), Teegle the Beagle helps to protect a little blue bird who fell from a tree in the backyard and was preyed on by the neighbor's cat. The back cover of the book (and tail end of the animated video) features photos of the real beagle and little blue bird. For young readers ages 3-6 years old.
Only logged in customers who have purchased this product may leave a review.
[yith_similar_products num_post"6"]