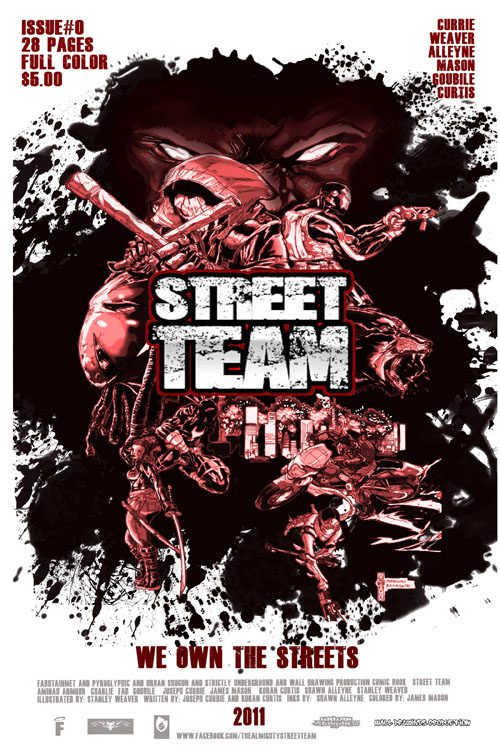 Street Team #0
$1.99 – $5.00
Stanley Weaver Jr, Joseph Currie, James Mason, Shawn Alleyne, Koran Curtis, Charles Goubile
Standard Comic
Full Color
Page Count: 28
What It's About
Grandmaster Ogunn and his clan of conquerors, known as the Silver Lords, have taken Bridgeport City by storm with a large-scale surprise attack. With this key centralized city falling in to his hands, it' only a matter of time before the other surrounding cities fall as well. So new Alliances are being formed with the criminal elite of these neighboring cities. Now Ogunn master plan of complete and total domination is within his grasps. Meanwhile another unlikely alliance is being formed. Five street level heroes, from the five neighboring cities have united to face this threat head on. Aaron, Blackbird, Dodger, Tiger and Stalker have formed the Street Team to combat this threat. But will they be enough to stop Grandmaster Ogunn?
After a large-scale surprise attack has rendered the city of Bridgeport defenseless. Grandmaster Ogunn and his newly acquired alliances have moved in for total domination of Bridgeport and the other surrounding cities. Standing in their way are 5 street level heroes, from 5 independent comics who have joined forces to put a Stop to Their master plan. Join Aaron, Blackbird, Dodger, Tiger and Stalker as they have united to face an adversary so cunning and so dangerous, that only by working together do they stand a chance of stopping the "Reignn of the Iron Dragon".
Click the banner for more from this publisher.


Only logged in customers who have purchased this product may leave a review.