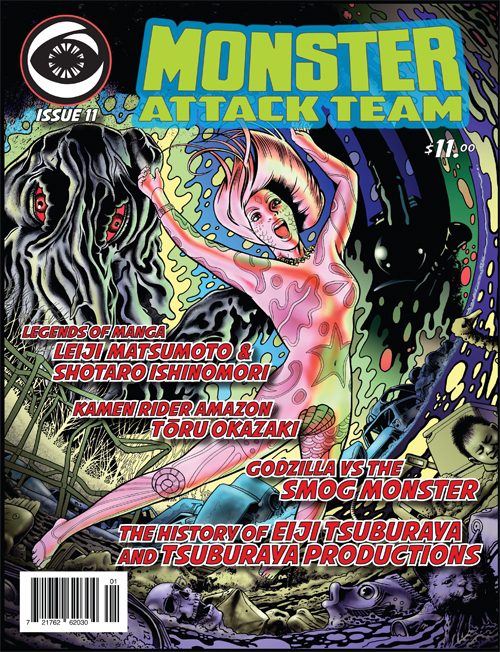 Monster Attack Team #11
$3.49 – $11.00
What It's About
Monster Attack Team, formerly published by Famous Monsters of Filmland returns with issue #11 the only English-language magazine devoted to Japanese monsters, superheroes, and rock 'n roll culture! 80 full color pages showcase the psychotronic world of Godzilla vs the Smog Monster, interviews with the admiral of space anime and manga Leiji Matsumoto, jungle star of masked rider amazon Toru Okazaki, tributes to Eiji Tsuburaya the father of Japanese special effects, Shotaro Ishinomori the king of manga and co-creator of Masked Rider and Power Rangers, audio wizardry from Toho Studios' sound effects artisans, Toei's 80's metal hero classic Juspion, Japanese toy festivals, and the fuzzed out origins of j-pop music with 60's group sounds degenerate band, the golden cups and the birth of Japanese glam rock with Alan Merrill the first western pop star in Japan. Turn it up to 11 with the number one Japanese sci-fi magazine on the scene Monster Attack Team #11! Monster Attack Team is the magazine devoted to kaiju, super heroes, toys & Japanese rock 'n roll culture!
Click the banner for more from this publisher.


Only logged in customers who have purchased this product may leave a review.