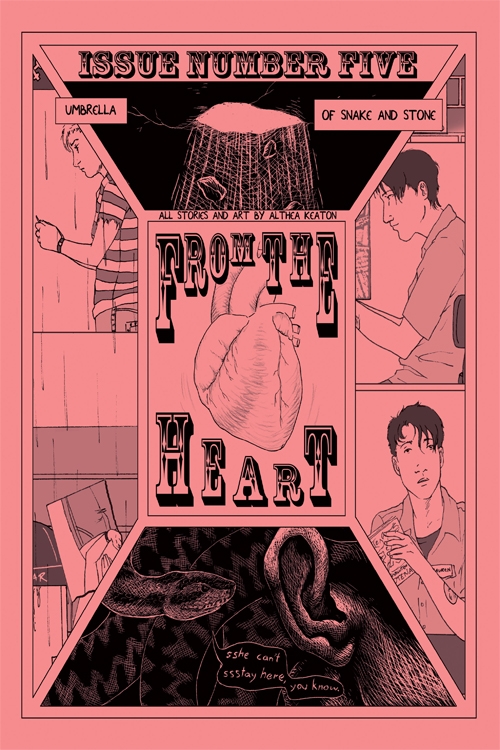 From The Heart #5
$0.00 – $2.99
Althea Keaton
Magazine Type Comic
Black & White
Page Count: 28
Order 5 copies or more and get 25% off on this book!
Great deal for re-sellers! (Discount shows up at checkout.)
What It's About
The fifth issue of From the Heart comics features two short comics: "Of Snake and Stone" and "Umbrella." "Of Snake and Stone" is a love story with a most unusual pairing: a gorgon and a wounded soldier. I have always wondered whether gorgons are monsters who enjoy turning people into stone as they are so often depicted, or if this ability is really more akin to the "Midas touch," where they would not turn people into stone if they could avoid it. This story explores this concept. "Umbrella" is a story about taking time: time to walk in the rain, time to heal, time to start anew.
The "From the Heart" comics series collects various short comics by writer/artist Althea Keaton. Most of these short stories are of the "slice of life" variety, focusing on characters, events, and moments that have a true to life feel, though some stories venture into stranger territories. What unites these stories? Quality art and quality writing that comes straight from the heart.
Click the banner for more from this publisher.


Only logged in customers who have purchased this product may leave a review.