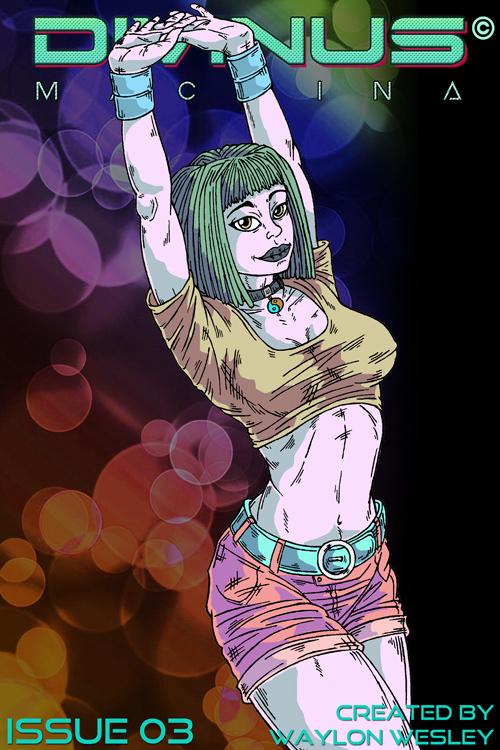 Divinus Machina #3
$2.99 – $6.99
After seeing a news report on the most recent cyborg murder, an event which she orchestrated, Joanne remembers the screams of the victim as they ring through her mind and torture her soul.
Waylon Wesley
Standard Comic
Full Color
Page Count: 20
Order 5 copies or more and get 25% off on this book!
Great deal for re-sellers! (Discount shows up at checkout.)
What It's About
We are introduced to the brutal world in which she resides, often abused and belittled by her fellow compatriots all because of a poor choice she made when she was younger. We are also introduced to new characters in the form of Nova Roma Police Chief Alfonso Bulewa, who together with one of his top detectives are working hard to crack the case of the violent harvesting murders, We also get a better glimpse into the life and personality of series protagonist Angela De Silva as she moves into a new apartment and finds a new friend in her neighbor Mirrel Alessandri, a sweet, friendly and compassionate young woman who takes an instant liking and curiosity to Angela
Divinus Machina follows the story of a woman named Angela De Silva, a member of a secret fraternity of cybernetically enhanced assassins who are indoctrinated to believe they are God"s hand of justice as they target people who are deemed wicked and evil. As she struggles to cling to her humanity in a world where technology encroaches on the very nature of individuality, she will uncover a vast conspiracy network of powerful individuals and corporate conglomerates that wish to bend all society to their will in their attempt to bring about a New World Order
Click the banner for more from this publisher.


Only logged in customers who have purchased this product may leave a review.